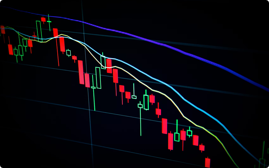 Market Analysis: UKOIL
On 17th January, UKOIL hit $86.70 per barrel, the highest since October, 2018. Concerns on Omicron variant eased. Investors bet that global supply will tighten. Geopolitical tension increases recently, supporting oil price. Investors should focus on OPEC monthly report during the day.

Geopolitical tension boosted oil price

Iranian-backed Yemeni militants launched a drone attack on the UAE on Monday, sparking explosions and setting fires near its capital Abu Dhabi, causing casualties. At a critical moment, the attack has escalated security risks in this major crude oil exporting region.

Monday's incident was one of the largest attacks to date on UAE, with a fire at Abu Dhabi's main international airport and fuel tankers set ablaze near an industrial zone. A few days ago, Yemen's Houthi rebels warned Abu Dhabi against further airstrikes.

Torbjorn Soltvedt, an analyst at risk intelligence firm Verisk Maplecroft, said: "Reports of damage to tankers and warehouses will worry oil market watchers who are also closely watching the nuclear talks between the U.S. and Iran. With negotiators running out of time, the risk of deteriorating regional security climate is rising.".

Crude oil supply tightened

Germany's foreign minister said on Monday that Germany and Russia diverged on many issues. The Nord Stream 2 project, which does not comply with European law, is currently suspended due to geopolitical tension.

Frenzy oil buying has pushed crude prices to multi-year highs, with oil supply disruption and signals of Omicron variant will not decrease the oil demand as expected. The increase in UKOIL price is likely to continue for some time.

Toshitaka Tazawa, an analyst at Fujitomi Securities, said that: "The bullish market trend continues. OPEC+ doesn't provide enough supply to meet strong global demand.". OPEC+ is withdrawing production cuts implemented in 2020 when the demand collapsed.

But many smaller oil producers have been unable to increase supply, while others have been wary of producing too much oil in case the epidemic hits the economy again.

Technically speaking, UKOIL is expected to reach 90 as the market trend is bullish

On the chart of the week, USOIL continued rising. The market trend is bullish. In terms of technical indicators, MACD went upwards after golden cross occurred, and the Vegas channel went up, indicating the market trend is bullish. USOIL will rise further to 90.0 if it continues jumping.

On the chart of the day, USOIL continued rising. The market trend is bullish. In terms of technical indicators, kdj continues rising after golden cross occurred at high levels, and RSI is moving at high levels, suggesting the market trend is bullish. If USOIL is steady above the support at 84.0, investors could buy as it reverses.

Key resistance: 88.5, 90.0, 95.3
Key support: 84.0, 82.0, 80.0

In summary, oil price increased due to the geopolitical tension and the tightening of oil supply. Investors should focus on OPEC monthly report. UKOIL may rise to $90 per barrel if OPEC raises the expectation of oil demand.
18.01.2022 XTrend Speed
98